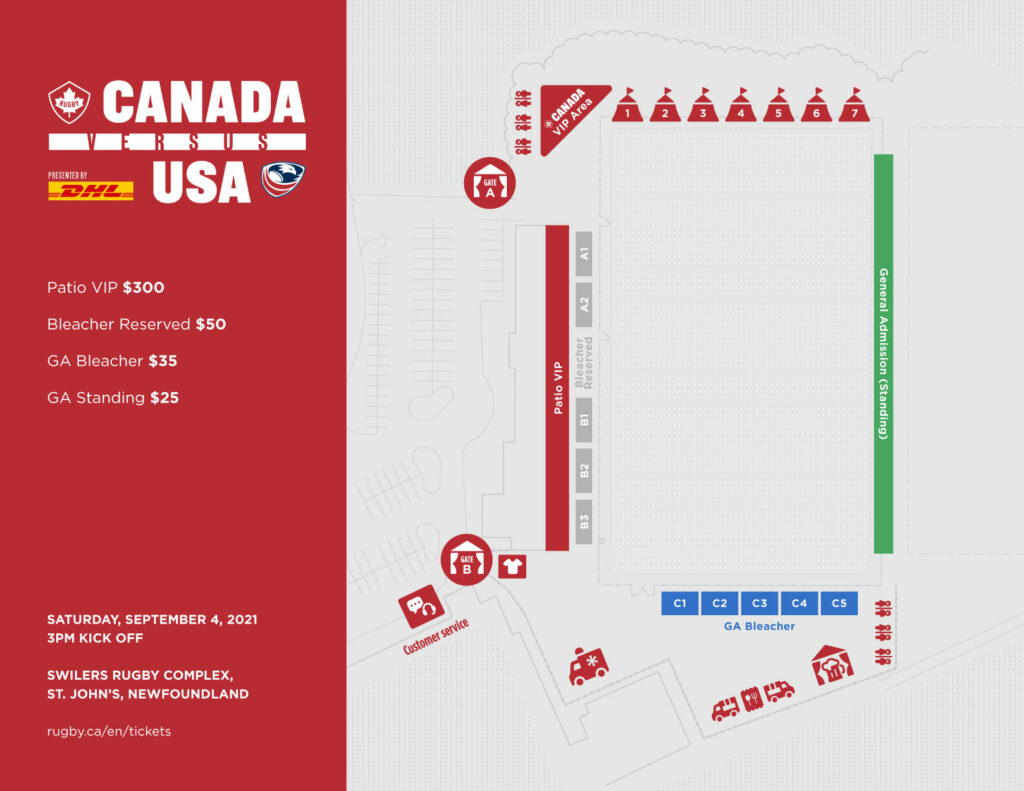 It's been many years since international rugby has been played on our home soil and tomorrow is the big day! Here are some pertinent details to know before arriving.
Cashless Event: For health & safety reasons, this game will be a cashless event. Please bring your debit and/or credit card for all purchases of food and beverage at the game.
Last Minute Ticket Deal: We have a few VIP tickets left. Contact the Mile One Centre box office by phone 709-576-7657 to upgrade your ticket to a VIP ticket at a discount! Limited inventory – first come first serve.
Parking: Parking at Swilers Rugby Complex is reserved for VIP Ticket holders only. To redeem, show the parking attendant your VIP ticket upon arrival. For reserved bleacher and general admission ticket holders, there is free event parking available at the Viking Building and surrounding lots.
Gates: Please refer to your ticket to determine your recommended gate and entrance times. As an overview, VIP Ticket and Suite Holders please arrive through Gate A (north side of clubhouse) starting at 1pm. Those with reserved bleacher seating will enter through Gate B (south side of clubhouse) starting at 1:30pm. GA holders will also enter through Gate B starting at 2pm. Please arrive early to avoid lineups before Kick-Off.
Cohorts: To help ensure the safest event possible, attendees have been split into cohorts. Please note that each cohort has its own entrance, food and drink service area, and dedicated washrooms. There will be no switching between cohorts and hosts will be onsite to help clarify which facilities are dedicated for which group. VIP & Suites Cohort 1 Gate A Reserved Bleacher & GA Seating Cohort 2 Gate B General Admission Gate B
Health & Safety: Everyone's safety is our number one priority. Masks are recommended and physical distancing measures are in place. Please sanitize and/or wash your hands whenever possible and be sure to stay home if you're unwell.
Go Canada Go!